Hans Herman Thun III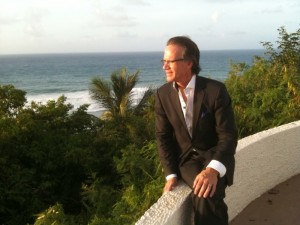 Born and raised in Illinois. Hans attended Southern Illinois University of Carbondale, where he earned a BA Degree in Broadcast Management and minor in business. He worked in broadcasting business for two years.
Over the past 27 years Hans has worked in direct sales in men's clothing. Having dealt with thousands of gentlemen, he's come to understand the needs of business owners, attorneys, bankers and doctors and the demands put upon them.
Having received training under a master tailor in the areas of blue pencil and fitting, Hans is confident in the development of patterns to provide a properly fitting garment.
When asked what he most enjoys about the clothing business, he shares, "One of the many aspects I enjoy is the ability to create a personal style for an individual. Having grown up in a family of artists, I enjoy the beauty of color and patterns and being able to put together combinations which are stimulating and refreshing to the eye." and he added, "the people…I have met many wonderful people over the years and have formed many lasting friendships."
Hans and his wife Diana have five children.